www.internationalfibercollaborative.com
Silvia and our Cerro Danta collective presented five panels to the fiber collaborative in Syracuse, NY. This is a gigantic installation measuring 800 square yards! Artists from 16 countries are present to protest our world's dependency on petro oil.
Color Membrana:


SILVIA Y LA COLECTIVA CERRO DANTA PRESENTARON CINCO OBRAS A LA COLABORATIVA DE FIBRAS EN SYRACUSE, NUEVA YORK. ESTA INSTALACION ES GIGANTESCA: MIDE 800 YARDAS CUADRADAS (¡CASI UN KILOMETRO CUADRADO!) Y COMPRENDE ARTISTAS DE 16 PAISES —TODOS ELLOS PRESENTES PARA PROTESTAR NUESTRA DEPENDENCIA MUNDIAL DEL PETROLEO.
.




Our quilts will be displayed until June, 2008, covering an abandoned gas station.
NUESTRAS QUILTS SERáN MOSTRADAS HASTA JUNIO DE 2008, CUBRIENDO UNA GASOLINERA ABANDONADA.
Membrana Verde:


Burlap Membrane:



"No Mo Oil" (appliqué on felt)

"We Love Nature" – Appliqué & painting over cotton mesh
"AMAMOS LA NATURALEZA" – APPLIQUÉ Y PINTURA EN TELA ALGODÓN




Go to the site and enjoy seeing all the artwork submitted!
¡VAYA A ESTE SITIO Y DISFRUTE VIENDO LAS OBRAS DE ARTE QUE SE PRESENTARON!

www.internationalfibercollaborative.com
———————————————————————————————–
REVISTA Fiberarts MAGAZINE
http://www.fiberarts.com/back_issues/Nov-Dec-2008/wrap.asp
November/December 2008
The World Reclamation Art Project (WRAP)
In our November/December 2008 issue, we included Jennifer Marsh's World Reclamation Art Project (WRAP), a gas station cozy created to address the world's dependence on petroleum. For the project, Marsh received individual squares from thousands of people around the world that she combined to make the cozy. Here Marsh tells the stories of three of the contributors, including Fiberarts Assistant Editor Liz Good.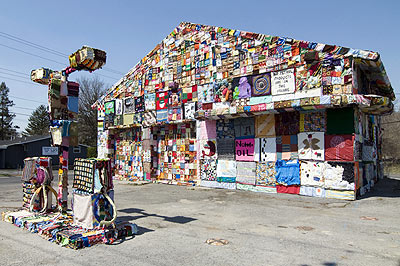 The World Reclamation Art Project on display in DeWitt, New York (just outside Syracuse), April 12– July 1, 2008. Photo: Cathryn Lahm.
Story #1
Silvia Piza-Tandlick is a textile artist and the founder and director of Octágono Gallery in Costa Rica. The gallery is a community-based program that provides educational and income opportunities through the textile arts. Silvia and her group joined the project to express their concerns towards our world's dependency on petroleum. In total, her group donated five truly inspiring panels. Silvia shared with me a story about another participant, whom she met through the IFC, that lived in Argentina. She said this amazing woman had been fighting cancer but was struck by our community textile-based project on oil dependency and was driven to complete a panel. Silvia said the ill woman had to take breaks and rest her arms in ice as she was finishing her panel. Wow! That is just amazing and inspiring.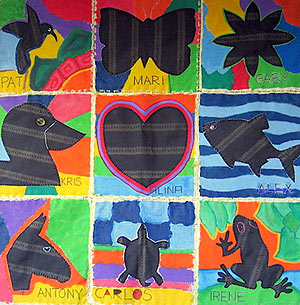 Fiberarts Magazine, The Octágono Gallery group (Costa Rica), Untitled, 2008; painted, stitched; 3′ x 3