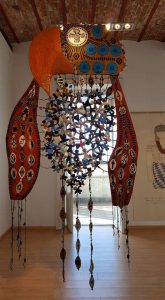 Ave de América
Desde Alaska hasta Tierra del Fuego, las Américas han admirado algún tipo de ave (águila, zopilote, quetzal, colibrí, cóndor, pelícano, lechuza, etc.) y han representado situaciones de la vida en forma de pictogramas. La diversidad de símbolos es asombrosamente parecida en muchas culturas, pues nuestra vida experimenta las mismas vicisitudes, sin importar dónde vivamos.
Algunos de mis pictogramas son interpretaciones propias. Otros son copiados de culturas precolombinas. Todos representan circunstancias de la vida, mostrados en plumas de mi Ave.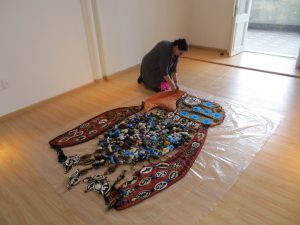 Bird of the Americas
From Alaska to Tierra del Fuego, the Americas have admired some type of bird (eagle, buzzard, quetzal, hummingbird, condor, pelican, owl, etc.) and have represented life situations in form of pictograms. The diversity of symbols is amazingly similar in many cultures since our life experiments the same vicissitudes, no matter where we live.
Some of my pictograms are my own interpretations. Others are copied from pre-Columbian cultures. All depict life circumstances, shown on feathers of my Bird.