It's not everyday that one gets to participate in a great open-source archaeology project such as Spiraltextile and win first prize in embroidery. WOW!.
https://spiraltextile.com
Then, the exhibits continued throughout Europe since the project was a joint venture by the Kelsey Museum in Michigan, and the Austrian National Library in Vienna.
I am happy to present my album from my Facebook page, which is very complete.
https://www.facebook.com/media/set/?vanity=siltextile&set=a.1972325602985455
Last November I received an invitation to participate in the Annual Textile exhibition in Buenos Aires, Argentina: 16th Salón Anual Medium Format, which took place November 2020 – March 2021 in virtual form. For that exhibit, I presented a free-hand piece (no previous drawing) working with alpaca wool over linen. With that exhibit I got to have my work presented in three different museums dealing with the Spiraltextile project. Awesome!
https://www.youtube.com/watch?v=aMXDceddytA&t=8s
—————–
Silvia Piza-Tandlich. Shepherd.
Materials: Alpaca, sheep and linen fibers over linen; bone beads.
Size: 55 X 25 cm, with bonnet 19 cm in diameter.
Technique: Hand embroidery.
Stitches: Chain stitch; stick stitch; couching; stem stitch; twisted chain stitch.
Year: 2019
Contact: tandlich@galeriaoctagono.com
Notes: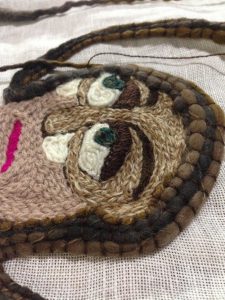 I was able to buy vintage 48-count linen, which is not an easy-to-handle material for free-style embroidery. This type of linen is fine for repetition stitching, but the holes in the weave create unwanted distortions in the design.
I'm interested in trying to follow what I think was the process of creation in the time of study, being that I work by hand and have the same embroidery mind as any other person using embroidery techniques.
Egyptian design had an incredible level of sophistication, however, which doesn't agree with the idea of "basic." For example, the artistic part depends on being able to mark the surface and fill it up with color, shading, light, etc. This is almost impossible for me due to having a limited supply of alpaca yarn for knitting—not suitable for embroidering—so as much as possible I'm using only alpaca and baby alpaca, taking thread from the fabric I purchased, but sometimes it is necessary to supplement with sheep yarn. [Note: I live in Costa Rica—a country that has no animal fibers and therefore, they must be imported.]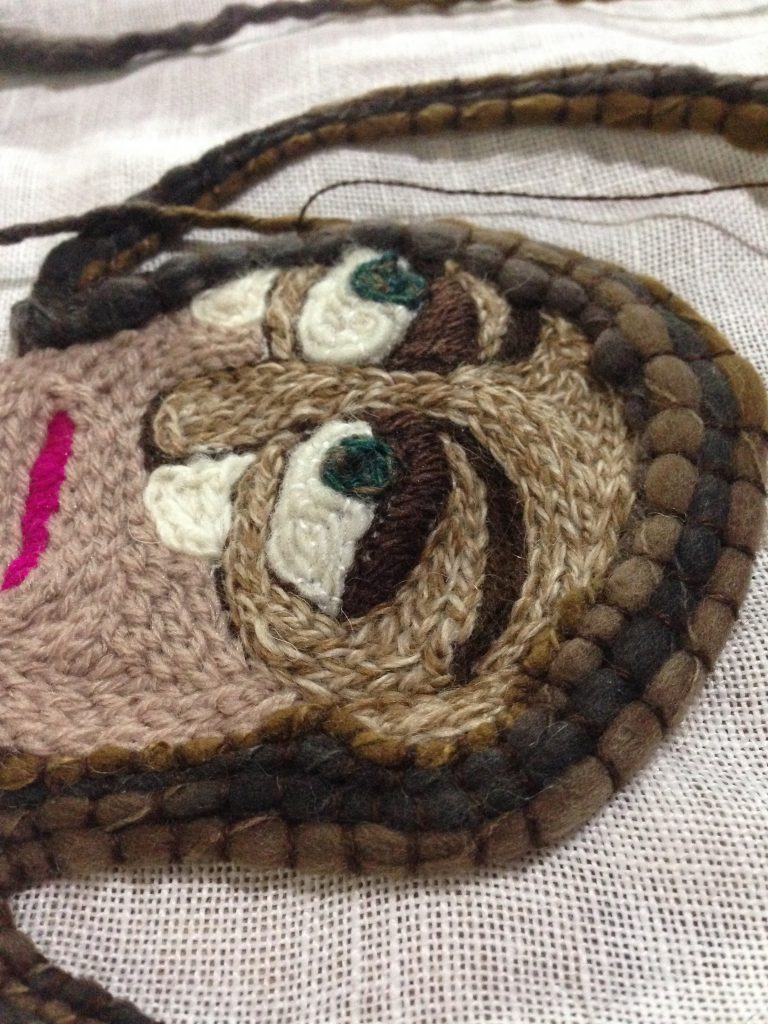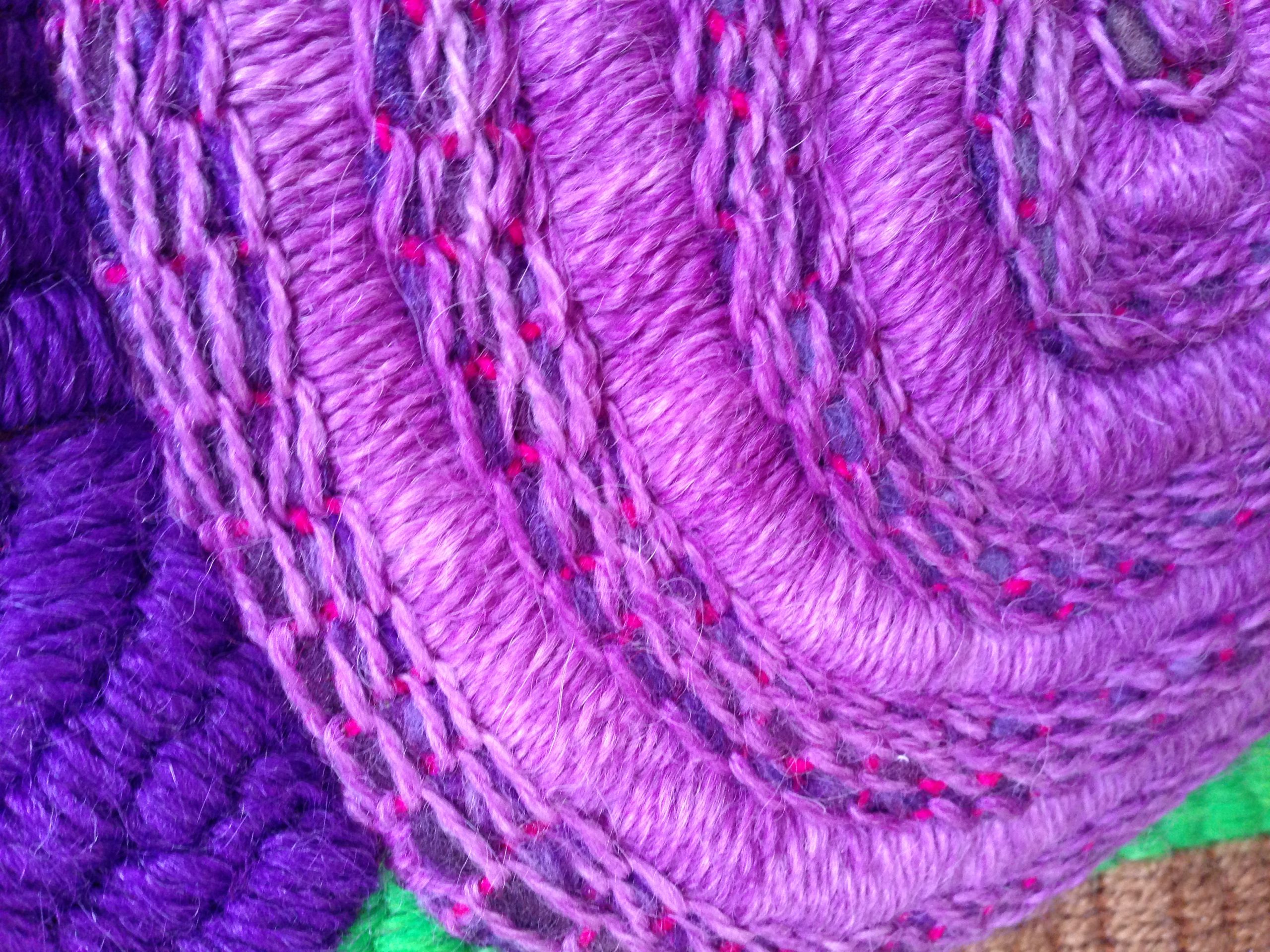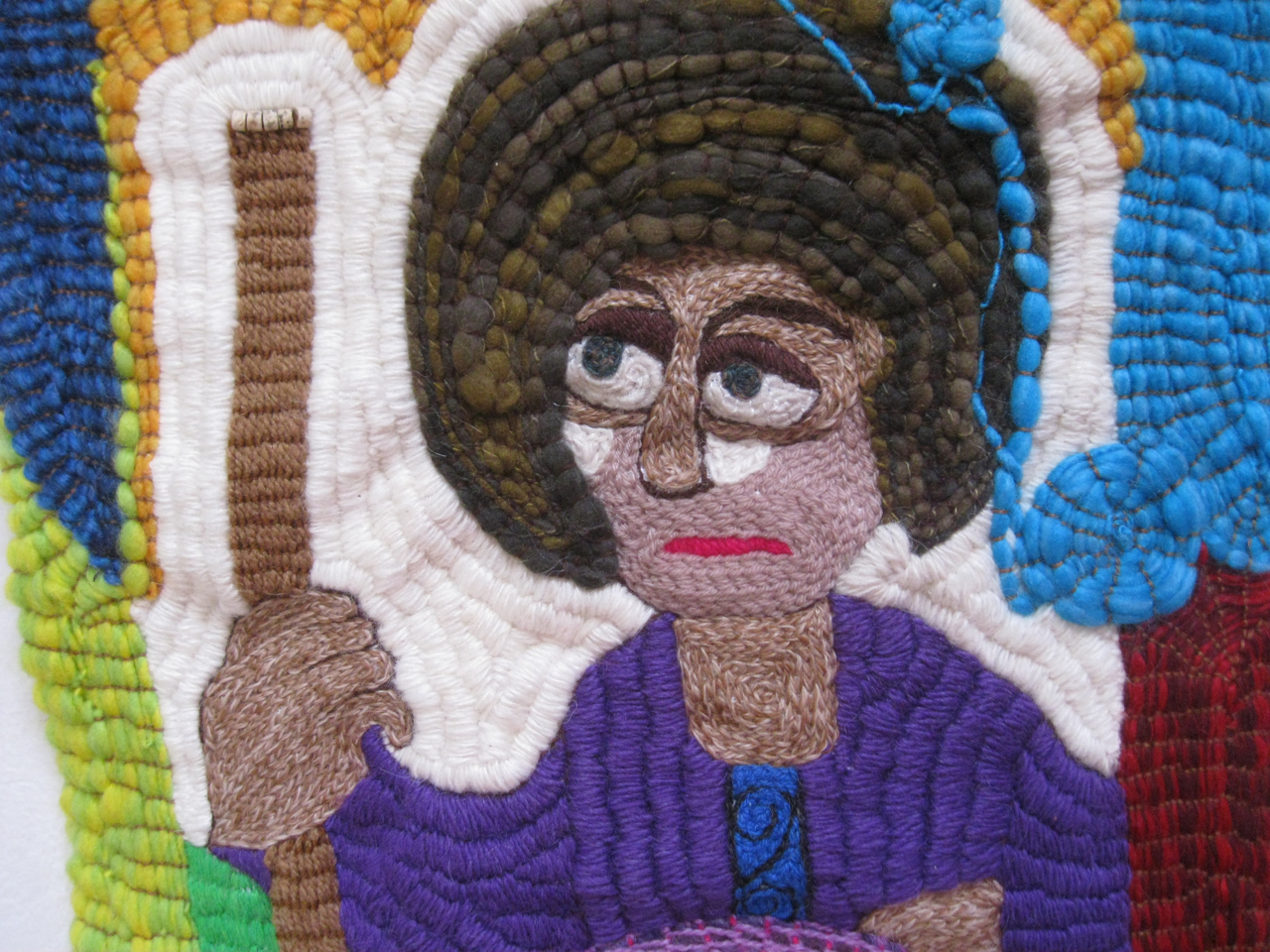 Mine is mostly a free-hand design, with a minimal face line to guide me, but the rest is ad libitum. It is very hard to embroider a perfectly featured face without marking the surface first. Nowadays we have graphite and charcoal pencils, which didn't exist in ancient Egypt.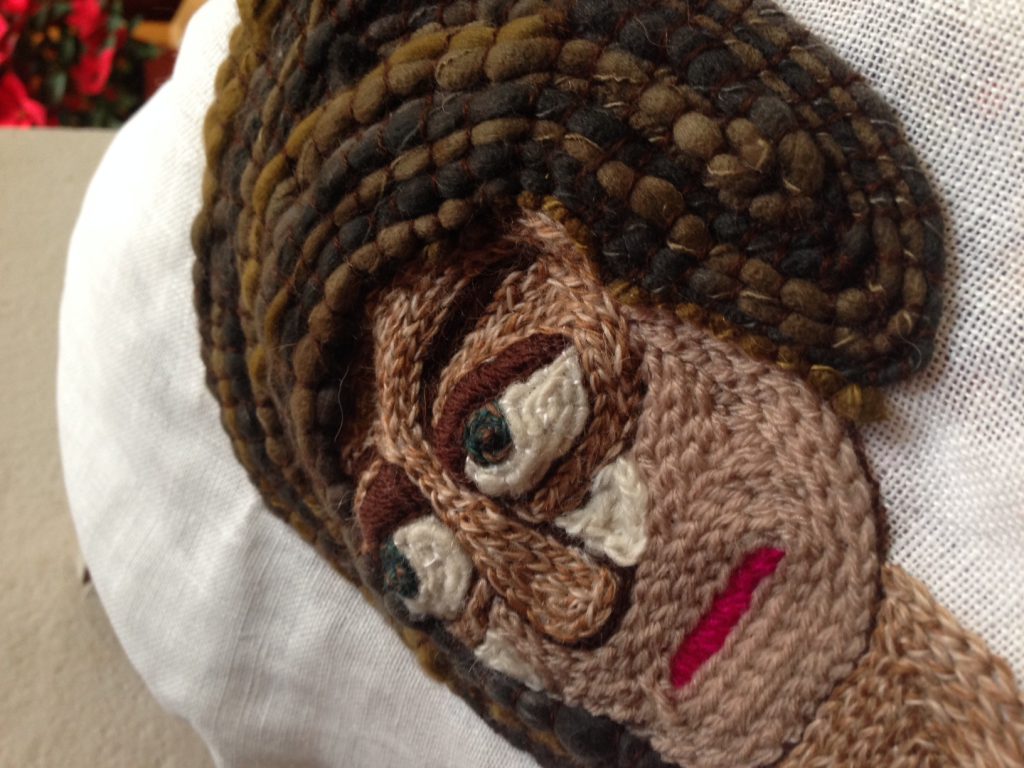 My conclusion in that respect, is that Egyptian artists must have had a marking or scouring tool to design on fabric. Scouring doesn't go well over delicate flax, so other than a burned stick that would stain the fabric, the most logical tool would have been a rock, which I imagine would have been easy to shape and would also provide a more constant source of marking agent: Limestone?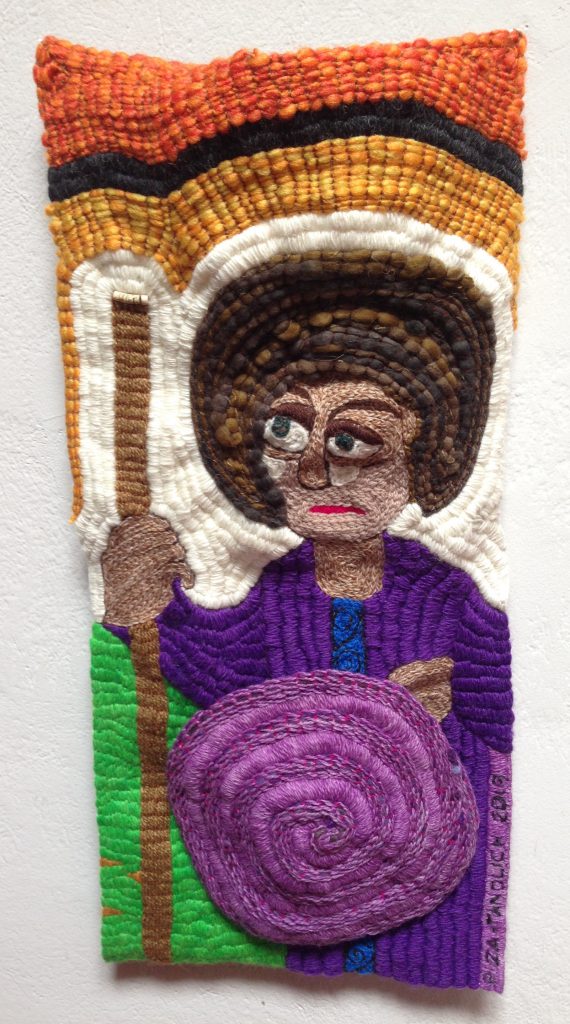 Looking at Egyptian textiles in books, I notice that the distortion of the canvas is overcome by creating a background embroidered in seed stitching, which adds strength and color to the base fabric. This way, the final design could have several layers of work, with texture, shape and color.
I did not have time to try seed stitching on my piece, but I did use twisted chain stitch on the bonnet, with very pleasing results.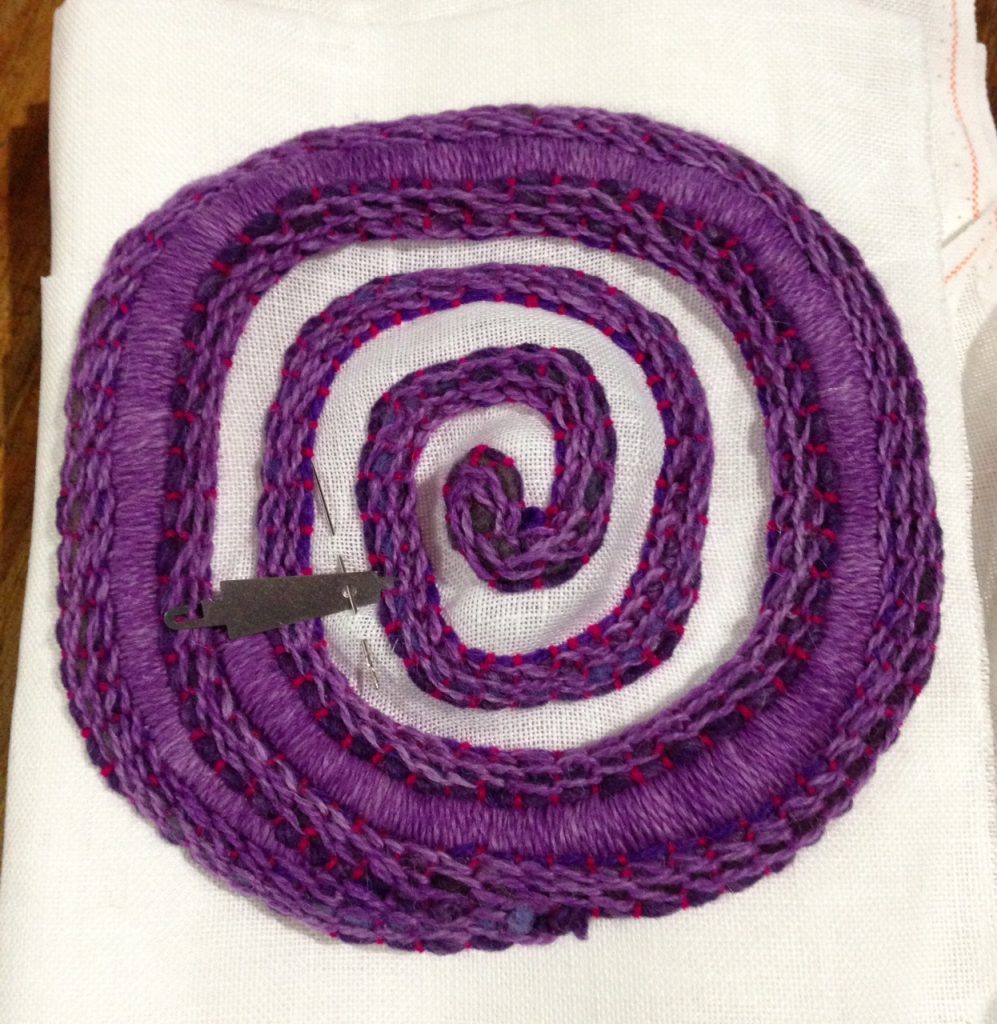 Here is the Spiraltextile blog entry at the Austrian National Library:
https://www.onb.ac.at/news-einzelansicht/ancient-textiles-modern-hands