En medio de una fuerte gripe, fue un placer conocer a Terri Atkinson de El Paso, Texas, quien se enamoró de mi obra "De fieltro en fieltro".
Este minitextil fue parte de la muestra "Arte textil costarricense", que se presentó en el Museo Municipal de Cartago en setiembre de 2010, dentro del marco del Encuentro Redtextilia (Red Textil Iberoamericana).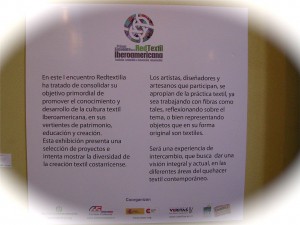 In the midst of a strong cold, I had the pleasure of meeting Terri Atkinson from El Paso, TX who appeared to be in love with my work, "From felt to felt".
This mini was part of the show "Costa Rican Textile Art", presented at the Cartago Municipal Museum in September, 2010 as part of the Redtextilia Encounter (Ibero-American Textile Network).