Este es el segundo módulo para la Plataforma del Museo Nacional. Hoy aprendimos a teñir a mano con tintas sobre algodón. El módulo mide 4m de largo X 32cm de ancho (¡es enorme!).
La próxima semana terminaremos de teñirlo y luego lo vamos a bordar.


This is the second panel for the platform of the National Museum exhibit. Today we learned to hand dye with inks over cotton. The panel measures 13 feet long X 12.5″ wide (it's huge!).

Next week we'll finish dyeing it, and then we'll embroider it.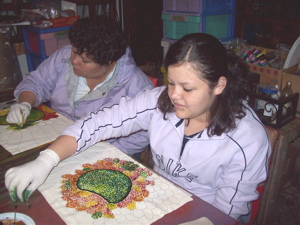 —————————————————
ESTE PROYECTO ESTA EN EXHIBICION EN EL MUSEO NACIONAL DE COSTA RICA HASTA EL 26 DE SETIEMBRE DE 2010.
THIS PROJECT IS ON EXHIBITION AT THE NATIONAL MUSEUM OF COSTA RICA UNTIL SEPTEMBER 26, 2010.