Para elaborar superficies, una de las técnicas que Silvia ha desarrollado requiere usar cualquier pedazo de tela porosa, a la cual Silvia le agrega color y profusión de bordado —siempre conservando la "marca de fábrica de Sil": el trabajo 100% a mano.
In order to develop surfaces, one of the techniques that Silvia has developed requires any piece of porous cloth, to which she adds color, and a profusion of embroidery —always conserving "Silvia's trademark:" One hundred percent hand work.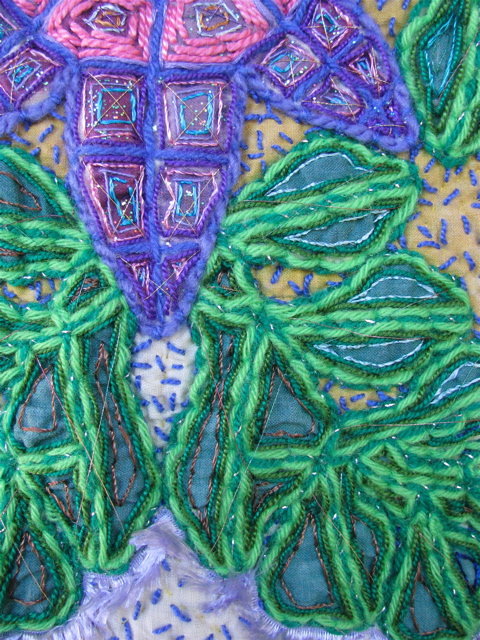 Para iniciar un proyecto, Silvia hace su diseño y lo marca en la tela. Luego procede a aplicar tinta indeleble, cuidándose de no cerrar los poros de la tela (o de lo contrario no se podría bordar).
To start a project, Silvia marks her design on the fabric. Then she proceeds to apply indeleble ink, making sure not to close the fabric pores (otherwise, it couldn't be stitched.)


El diseño se llena de bordado concéntrico y se acolcha al final.
The design gets filled with concentric embroidery and later, quilting.